Listing Your Services Takes Only 3 Steps!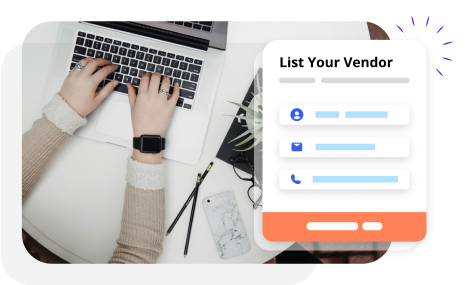 01
Register Your Vendor Service Page
Let's start with the basics: Venuerific will need details such as your name, vendor name, services, email address, and phone number. Make sure you also have a vendor banner prepared for potential customers!
02
Get Contacted by the Venuerific Team
Once our team does a successful background check on the information you provided, a Venuerific team member will contact you for confirmation / approval of your application.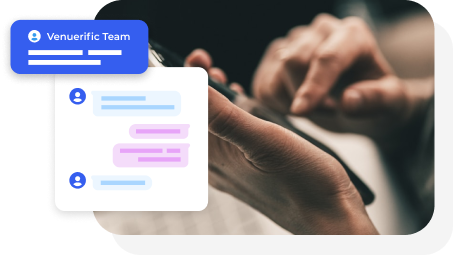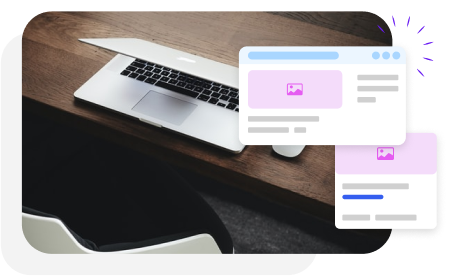 03
Your Page is Directly LIVE!
Your listing and services are now accessible on the Venuerific Vendor Listing Page. With Venuerific's thousands of monthly customers, get ready for a boost in traffic and enquiry.
Venuerific Vendor Listing FAQ Section
How To Get Started With Venuerific Vendor Listing?
Start by filling out the "Register Your Services" form on the Venuerific Vendor Listing page.
Here, Venuerific will need important information about your service. Expect usual questions about setting up an account. This can be divided into:
Basic Questions (Name, Vendor Name, Email, Country, and Phone Number); and
Vendor/Service Information (Vendor Banner, Vendor Description, Services, and Link)
Please note that Venuerific Vendor Listing accept different services such as:
Food and Beverage (Catering, Cakes, etc.)
Photography
Videography
Decorations
Wedding Planning
Entertainment (Clown, Magician, DJs, Bands)
A few reminders about the information you provide:
Make sure that all your information is correct before submitting. Our team will most likely get back to you through email or WhatsApp, so there is no harm in double checking!
The Vendor Banner size is recommended to have a width of 420 and a length of 160 (420 x 160).
Moreover, the Vendor Banner file size should be 2MB maximum.
Provide an ample amount of descriptions of your service—not too long, not too short. It is important to be transparent with your potential customers, but it's also important to be readable! Maximum of 120 words only.
Be honest in listing your services. Do not list services that you are not sure you can provide yet. Again, transparency with your customer base is key to a successful partnership!
Rest assured that your personal and listing information are in good hands with Venuerific. Like other platforms, the information you provide will be used only to review for background checking. Legitimacy and relevancy are important before launching, so we hope you understand why we need this information.
Venuerific makes sure both parties mutually benefit from the services of the Venuerific Vendor Listing.
Please also remember that it is also important to keep your lines of communication open once you submit your information. Our team may have questions about the information you provide, and the quicker you respond, the quicker your services can be featured on Venuerific Vendor Listing.
After How Long Before We Get An Approval for Venuerific Vendor Listing?
Depending on the information you provide, your service will be able to join Venuerific Vendor Listing in less than a week. Still, this can vary depending on both you and the customer service team. Should you provide accurate and correct information, your service can go live as soon as possible.
This is why it is important to keep all lines of communication open once you submit your information. Once your data is double checked and verified, you will receive an automatic email confirming the status of your application. These processes are done as soon as possible—so fast and accurate actions on your end make for faster results on ours!
Like with all other Venuerific services, we want to save as much time as possible. We understand that this is not the only thing you have to do on a daily basis, and we do not want to add any more hassle to your day.
Please also note that this timetable is not always consistent especially during peak season and holidays. The Venuerific Team is hard at work, just like you!
What Is the Next Step After Joining Venuerific Vendor Listing?
Once your page goes live, it will be featured on the Venuerific Vendor Search page. As with most search pages, the most popular venues can be found at the very top. To request to be on the top of the search page, kindly reach out to Venuerific Sales team.
Since Venuerific has a number of services to feature, there is also a filter for the vendor searches. There are tags for the different event categories on the Venuerific platform, as well as for service types.
Here are a few sample event categories searchable through the Venuerific Vendor Listing page:
Baby Shower
Birthday Party
Wedding
Office Party
To know more about this, you can go through Venuerific's Event Categories List, viewable through the "More Filters" search.
Moreover, here are samples of service tags searchable through Venuerific Vendor Listing:
Catering
Cake
Wedding
Photography and Videography
Clown
Bartender
And many more!
If you have questions or concerns about Venuerific Vendor Listing tags and searches, you can contact our customer service staff.
Why Should You Join Venuerific's Vendor Listing?
Since its humble beginnings in 2013, Venuerific has always had one goal: to make event planning easier and people can #CelebrateAnywhere. Now with thousands of visitors per month and almost a decade of experience, the steps leading to this goal continuously evolves, especially for Venuerific.
Venuerific has come to realize its potential in becoming a one-stop solution for events planning. Finding an event venue is one thing, but the services inside that event are just as important. While some Venuerific venues provide their own catering and event support, not every customer envisions the same spread of food and decorations.
Moreover, some Venuerific venues are completely blank canvases—with the customer filling in everything essential to a party (food, music, decorations, etc.).
On the other end of the spectrum, not every vendor has the platform they need to put their services on blast. More often than not, these vendors are in competition just for visibility, since social media has become an oversaturated marketing arm for all kinds of businesses.
This is who Venuerific Vendor Listing is for too—those who offer pure services that need help in reaching their target market.
Venuerific Vendor Listing exists to bridge such customers with such vendors, giving them both freedom and options to grow their visions. For customers, to have choices when planning the most important events of their lives. For vendors, to stop blindly advertising and to get to the customers directly, without hassle.
Venuerific Vendor Listing is the natural next step in Venuerific's growth as an event venue marketplace. The company is set to become a one-stop solution for event planning, still with the help of the people that it plans to serve: event planners and vendors.